Simple Life 5: Goes to Camp (2007)

"Every week, new groups of people will come in. One week will be fat camp and then couples' camp. It's going to be so funny!" - Paris Hilton
The Simple Life Goes to Camp picks up with the on-again best friends hitting the road once more, this time to serve as Counselors at Camp Shawnee in the rough wilderness settings of the Southern California Mountains. The Great Outdoors will never be the same! The season premiere of The Simple Life Goes to Camp aired on Memorial Day, Monday, May 28 at 10:00pm et/pt on E!.
Simple Life 5 DVD will be released on January 22, 2008. Pre-order now!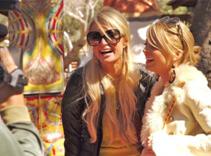 Now that Paris Hilton and Nicole Richie are friends again, they are back together for a new journey in the Simple Life series. This time Paris and Nicole are camp counsellors in Malibu, California for multiple camps, such as a beauty pageant camps, a fat camp and a couples camp.
Simple Life 5 was supposed to start shooting in November 2006, but like always, it was pushed back to March 2007. In January 2007, Paris Hilton revealed to In Touch Magazine that Nicole and she were ready to film together and take their role again in Simple Life 5. She also said "Every week, new groups of people will come in. One week will be fat camp and then couples' camp. It's going to be so funny!" An insider from the show added they will be counselors at Malibu's Camp JCA Shalm. Apparently, there will also be an episode which will be titled "Cheerleader Camp." Finally, they concluded that the upcoming season of Simple Life series will "be hilarious."
Season 5 of Simple Life began filming in March 2007. E! made a public announcement on March 21, 2007 that the Simple Life Goes to Camp will air on May 28th, 2007.
The first episode of Simple Life 5 was highly anticipated, and it is was a good premiere. However, a couple of weeks later, the season started showing its true colors. Simple Life 5 is probably the second weakest season of the series after Simple Life 4. This one simply fails to keep us interested from one episode to another. Furthermore, the episodes weren't very funny either mostly because Paris and Nicole didn't take the filming seriously. Paris, Nicole and the producers obviously didn't put much effort to make it as good as Simple Life 1 or 2. Nevertheless, it is still enjoyable to watch, but that's about it. By the time season 5 ended, Simple Life 5 was history for some Paris and Nicole fans while many fans wanted more. The ratings of the first episode were excellent for E!, but rapidly, they started declining. The media was already focusing too much on Paris Hilton's jail time, while Paris and Nicole were probably hoping that the show wouldn't be picked up for another season. Finally, E! later announced that they had decided not to renew Simple Life 5 again, but the producers hadn't given up and were still trying to find another network.

Interesting facts
Nicole Richie was several times diagnosed with hypoglycemia while filming the show. According to the producers of Simple Life 5, Nicole felt weak and had hard time speaking well on set.
Because of Nicole Richie's health problems, it took more time to film the show.
After E! cancelled the show, Paris Hilton said in an interview that she was trying to get out of the show for a while (possibly since season 3), but she couldn't because of contracts. She was glad that the show was finally over.
Press Release
On-again friends Paris Hilton and Nicole Richie are taking "The Simple Life" - which shows the tabloid-ready celebutantes thrown into everyday situations with real people - to camp. After last season's format allowed the then-feuding friends to have little to do with each other, this year's edition brings them together again.
"The Simple Life Goes to Camp," set to debut in May, has Hilton and Richie working as counselors at Camp Shawnee in the mountains near Los Angeles, E! Entertainment Television Inc. announced Wednesday. The camp will be host to five different specialty groups: Wellness Camp, Pageant Camp, Couples Camp, Survival Camp and Drama Camp.
Hilton, 26, and Richie, 25, will be expected to eat, sleep and keep the same schedule as the campers. They will be working under the direction of various experts, the network said. "The fact that Paris and Nicole are friends again and will have to survive without their luxuries at a family run camp in the middle of nowhere takes us back full circle to the original concept that makes this show so much fun," Lisa Berger, who oversees original programming and series development, said in a statement.
"Paris and Nicole will be advising and training girls and their moms for beauty pageants, or providing therapy for couples seeking to strengthen their relationships," she said. Meanwhile, Richie has been diagnosed with hypoglycemia, or low-blood sugar, her publicist confirmed Wednesday in an e-mail to The Associated Press.
Richie was visibly heavier in 2003 when she began filming "The Simple Life."
Last fall, she acknowledged in an interview in Vanity Fair magazine that she was "too thin right now" and was getting treatment to add pounds.
Associated Press

Interview With The Associated Press
AP: How did you prepare for camp?
Richie: We actually didn't prepare, which I guess was a problem because we were wearing heels and just not camp-appropriate things. But during the fitness camp we wore sweats a lot which was a nice break.
Hilton: We had fun with everyone who came in. All the camps were completely different. We would have to do all the challenges that they would have to do. We had to stay with them in the same rooms, so basically we were living the camp life. It was hard, you know, not having cell phone service, being away from our friends and our family, but we had each other, so that was a lot of fun.
AP: Neither of you had been to camp as kids. What did you think of the whole experience?
Richie: It was interesting. It's definitely not for me. I'm not a camper. But I'm glad that I did it once. I'm always up to try anything.
Hilton: I think just being the camp counselors is being a lot different from actually having to go to camp as a kid. But I don't know. I didn't really like the camp life either. I'd rather go to Europe for the summer.
AP: You two have had some ups and downs in your friendship. Where do you stand now?
P: We've been best friends since we were two years old. I've don't have any friend I've had as long as Nicole. She's my sister. Everyone has a fight, you know, it's just not going to be publicized, you know, and have things construed and changed around. You know, we're friends. We know the truth. The media made up a lot of silly stories and you just have to not pay attention to it.
AP: What was the worst media incident and how did you get through it?
Richie: I don't know if there's something that stood out as being the worst, but I mean, people really banked off of it. There were Team Paris and Team Nicole shirts. We didn't make them, you know? And it was really awkward when people would ask me to sign them because I'm not going to sign them. (Hilton giggles.) It's true! Like, I'm not going to sign a Team Nicole shirt that says, Yeah, I'm against Paris or anything like that, you know? Even though it's public, it's not my choice for it to be public, you know? We just had a falling out and it happened to be public. It wasn't my choice at all. And the fact that we're friends again, the fact that that's public isn't my choice at all. I mean, we're human beings and we get into fights, and, it happens. Well, we had one fight in 23 years, so I guess that's a good thing.
AP: What is it about "The Simple Life" that fans have connected to?
Hilton: Just that it's about two best friends who are together and I think people can relate to that, because everyone has a best friend. We have our secret languages and our secret looks to each other and we just have fun together. I don't know. It's hard to find a group who can be like that together.
Richie: I think that originally people thought "Oh, this is going to be about two spoiled blond girls that don't know how to do anything and make fun of people," and that's not what it's about. If anything, we're making fun of ourselves. We're very different. We're very opposite, so it's a good balance, you know, between the two... She has strengths where I have weaknesses and I have strengths where she has weaknesses and it really creates a good dynamic.
AP: What has doing the show taught you about life and about each other?
Hilton: I've just been doing the show now five seasons so I've definitely, you know, learned a lot. I've traveled the world and met all these different families and different people and, I don't know, just learning about other people. With Nicole, I've been best friends with her my whole life so I already knew everything about her. I don't know, just that we can survive any situation and we can have fun no matter where we are as long as we're together.
Richie: It's funny because a lot of people, as close as they are, when you spend so much time with someone, it's like you see habits that you know, you're just like ugh, I can't spend this much time with someone. But I love spending time with her and we have so much fun and, you know, I really just look at it as nothing but fun.
AP: How are your pending legal problems affecting your projects? (Hilton and Richie were each arrested for driving under the influence in the past year.)
Richie: We're not talking about that.
Simple Life 3: Interns DVD
DVD Features:
Format: Color, Dolby, Dubbed, DVD-Video, Full Screen, Subtitled, NTSC
Number of discs: 1
Number of episodes: 10

Purchase Simple Life 5 DVD from Amazon.com
Posters of Simple Life 5
Paris Hilton And Nicole Richie promote Simple Life 5 At Quixote Studios In West Hollywood
Simple Life 5 Stills