The World According to Paris (2011)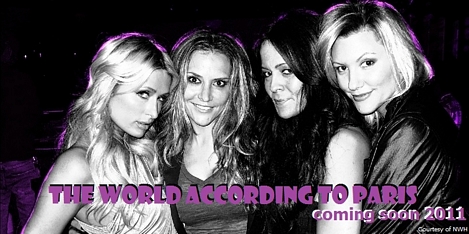 Biography of Stars in "The World According to Paris"
Oxygen Media is turning the lens on media icon, Paris Hilton, with the new docu-series The World According to Paris, produced by A. Smith & Co. Productions ("Hell's Kitchen," "Kitchen Nightmares," "Paradise Hotel"). As a model, singer, actress, and entrepreneur, Paris has led a very public jet setting life. As she enters the next stage of her life, the provocative heiress and her life beyond what we see in the tabloids will become the focus of The World According to Paris. The announcement was made today by Amy Introcaso-Davis, Senior Vice President, Original Programming and Development.
With Hollywood on one side and real life on the other, this series follows Paris and three important women in her life, through all of their ups and downs, loves gained and lost, marriages, kids, divorce and more, revealing this lively group of dynamic individuals.
"Paris is magnetic in such a way that viewers are naturally curious about her and think they know her based on what they see in the media," said Introcaso-Davis. "We're looking to truly bring an all-encompassing look at her life, friends, family, and relationships, all that's not represented every day. It's going to be a fascinating journey."
Meet Paris's friend Brooke Mueller, Charlie Sheen's wife and mother to his two adorable twin boys, who is never afraid to say what is on her mind. Then there's Paris's pal Jennifer Rovero, who once dated Fred Durst and graced the pages of Playboy. A single mother of two, Jennifer works full-time as Paris's photographer. Paris' friend Allison Melnick, a major player in LA's nightlife scene, will also appear on the show. And of course a big part of Paris's life is her mom, Kathy Hilton, the voice of reason and the one who always tells Paris the truth. Wise, business savvy and fiercely loyal to her family and friends, we'll also see a side of Kathy that the audience hasn't seen before: a prankster with an unrivaled sense of humor.
Behind the glamour, red carpets, photo shoots, and fabulous parties stands a strong woman who's determined to make a new life for herself. The World According to Paris offers an unprecedented voyeuristic glimpse into Paris's real life. The always controversial model, actress, singer and entrepreneur runs a successful fashion and style empire, but she never forgets that the most important things in life are family and friends.
The World According to Paris is being executive produced by A. Smith & Co. founders Arthur Smith and Kent Weed, as well as Paris Hilton, Rick Hilton and Jamie Freed.