Paparazzi Fender Bender After Can Can Launch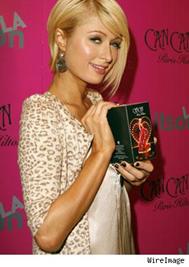 Did anyone go to Kitson today? I haven't seen any report about the launch of her new fragrance, although TMZ just posted a picture of Paris with Can Can.
After launching it, Paris went back to Kitson, and here's what happened (by TMZ):
Paris Hilton's black Cadillac Escalade was side-swiped by a paparazzo trying to get a good shot of the heiress, but don't worry — Paris wasn't driving this time.
Hilton was riding in the backseat as her car pulled into the alley behind Kitson, the trendy boutique on Robertson Blvd. where earlier in the day Paris launched her new fragrance. As the SUV made the turn, it came to a stop as a black Mercedes pulled alongside of it and the two cars hit bumper to bumper — smacking Hilton's ride on the right side.
Paris was alright but a bodyguard who was riding in the front passenger seat complained of neck pain. The two parties exchanged information, but no cops or paramedics were called. In fact, Paris headed into Kitson to do go about her shopping!
The audio/video associated with this article is unavailable.
Posted: October 27th, 2007
Comments: 2

From: kevin
Time: October 27, 2007, 7:03 pm
OMG! Can Can smells SOO good! I wen to Macy's today and it smelt so good! Her best perfume yet! I put on the lotion and perfume and got 2 samples.
From: Django
Time: October 28, 2007, 2:59 am
Those idiot papparazzi! The fact that anyone at all was even slightly injured due to their reckless disregard for others means that the police should have been brought in, in my opinion (but then I supposed to the rest of the world it would have been "Paris making a big deal about nothing, expecting special treatment in not being endangered by papparazzi" *rollseyes*). I'm just glad that Paris didn't get injured or upset and noone was seemingly seriously hurt.